The trail to Bull Run Lake can be difficult depending on what kind of shape you're in and how much water is flowing in the streams you have to cross, but the lake is beautiful and a great place to camp.
From the Stanislaus Meadow parking area just off of Highway 4, it's almost exactly 4 miles to the lake. You can cut up to a half mile off of that if you drive in on the dirt road to the official trail head. However, there are some pretty rutted sections of that dirt road that I would not want to take without elevated ground clearance and maybe four wheel drive.
I parked in the large parking area, about four miles East of Lake Alpine on the South side of Highway 4, and walked the dirt road into the official Stanislaus Meadow Trail Head. The parking area is at about 7900 feet elevation. It was a pleasant walk and I wanted to get some video footage anyway. From the parking area I followed the road for about 0.55 miles to the well signed Stanislaus Meadow Trail Head.
There are no facilities at the parking lot or trail head so plan ahead. Make sure and bring plenty of water for the hike.
Near the trail head is a junction with the Emigrant Trail that will take you to Mosquito Lakes in one direction and to Lake Alpine in the other. On some topo maps the trail to Lake Alpine is shown, but the trail to Mosquito Lakes is not. There is another trail junction further up toward Bull Run Lake that also goes to Mosquito Lakes and some people make a loop out of it.
From the Stanislaus Meadow Trail Head, we travel mostly South down a gentle slope for a little more than a half mile to the signed boundary of the Carson Iceberg Wilderness Area. Remember that motorized vehicles and bicycles are not allowed in the Wilderness Area.
Continuing mostly South from the Wilderness Area Boundary, or path begins to steepen it's descent. This steeper South bound part of the trail continues for a little over six tenths of a mile until we reach a crossing near the headwaters of the North Fork of the Stanislaus River, about 1.7 miles from the parking area. When I did this hike in early September the river was dry. However, earlier in the season when the snow is still melting, this crossing can be challenging. There are several places where people or horses have chosen to cross depending on the rate of flow. This is the low point of our hike at about 7440 feet.
From the crossing of the North Fork of the Stanislaus River, we begin to climb gently in a Southeasterly direction for about four tenths of a mile where we come to another stream crossing. Again, when I did the hike this stream bed was also dry but it would not have been just a few short weeks earlier.
From the stream crossing at about 2.1 miles from the parking area, we turn toward the North East, and begin to climb more steeply. In another six tenths of a mile, or about 2.7 miles from the beginning, we come to the trail junction I mentioned at the beginning of this article. If we continue North East at this point we can go to Heizer Lake or further on to Mosquito Lakes and Highway 4. Today though we are going to Bull Run Lake so we take the right fork of the trail which now takes us toward the South East.
For about then next four tenths of a mile our path is nearly level… it won't stay that way. At about 3.1 miles from the beginning we start one of the steepest inclines of the hike. Going steeply up hill we travel first to the South East, then East, then South for a bit less than half a mile where we come to a short level stretch and a small pond on our right. I know my first reaction upon reaching this pond was great disappointment having mistakenly concluded that this was my destination… luckily the person I was hiking with knew better.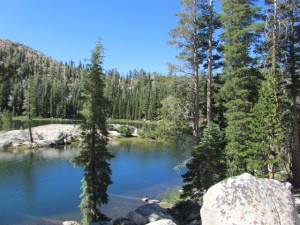 From the pond it's only another four tenths of a mile (all up hill) until we reach Bull Run Lake at about 8360 feet elevation. The lake is fairly large and has quite a few great camping spots pretty much all around its perimeter. Being a relatively short hike and a beautiful location, it is a very popular spot for weekend day hikers and back packers.
The hike into Bull Run Lake is easier that the hike to Wheeler Lake. They both have lots of good camping spots. One big difference between the two is that the scenery going to Wheeler Lake is very volcanic in nature whereas the hike into Bull Run Lake is like a lot of the Sierras… Granite, Granite, Granite. In fact, there are some stretches of the trail where you pretty much have to rely on the rock ducks (small cairns) and tree blazes (examples shown in the video) along with map and compass and GPS if you're lucky.
I hiked this trail on one of the busiest weekends of the year, Labor Day weekend. I saw lots of people on the trail, some who looked like they were prepared, others who did not. There are some steep sections, exposed sections, gravely sections, and depending on the time of year, some significant stream crossings. Bring plenty of water, good hiking shoes, and stay within your abilities.
I hope you get the chance to enjoy this hike to Bull Run Lake!